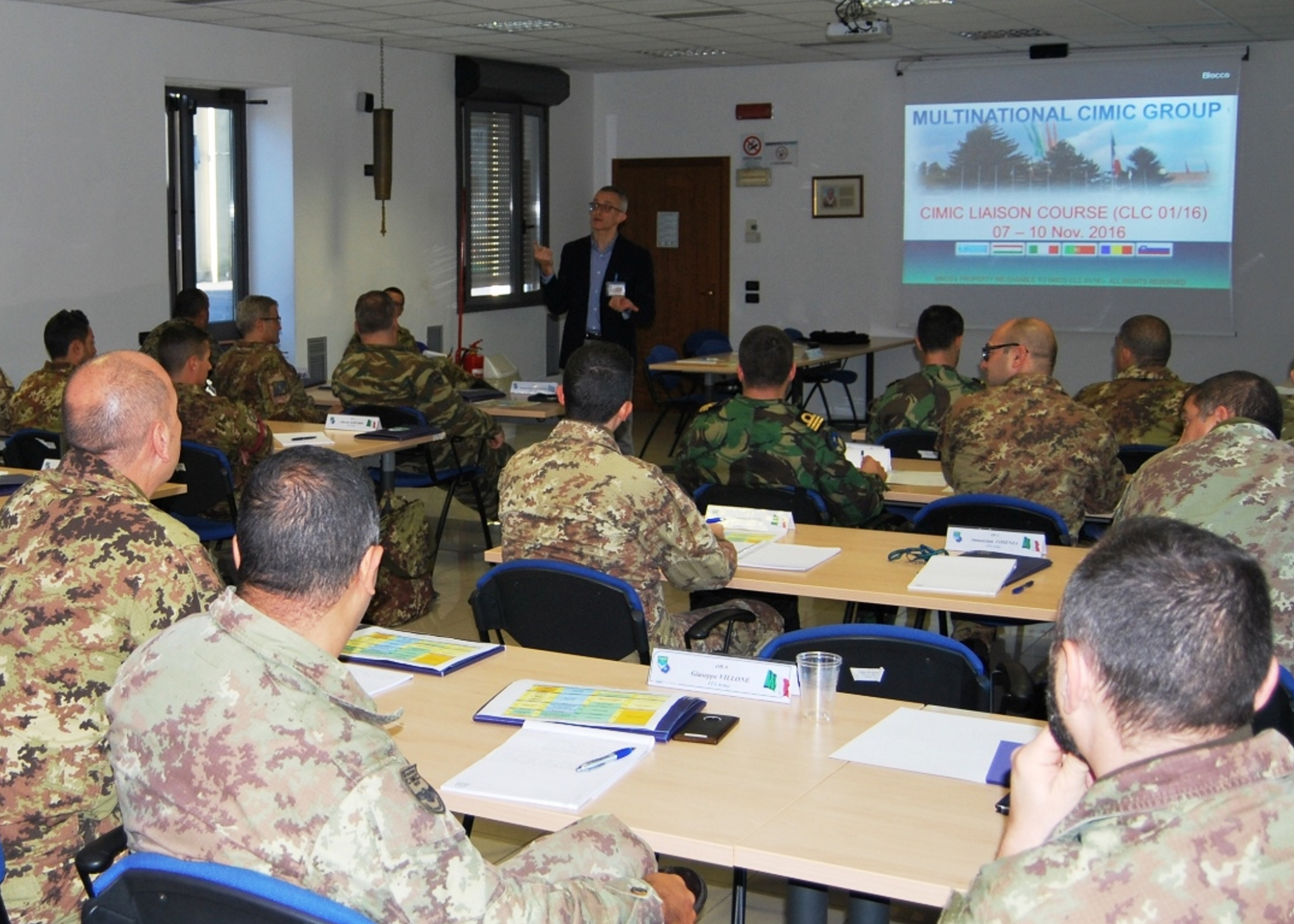 CIMIC COURSES

MNCG T&E Branch offers specialized education and training, in order to enhance the general knowledge about CIMIC, and to enable military and civil operators to conduct CIMIC related tasks in different missions and scenarios, while simultaneously contributing to the lessons learned process.
Education audience.
a.  NATO CIMIC personnel working in a field or staff position need to have knowledge to be able to execute CIMIC related activities in order to support the NATO commander's mission. It is expected this required CIMIC knowledge will be obtained prior to the employment.
b.  National CIMIC personnel will be educated and trained in order to provide them with the required NATO CIMIC knowledge and skills, necessary to work in CIMIC Staff Elements or be able to cooperate with NATO in CIMIC matters.
c.  Non-CIMIC personnel (NATO as well as non-NATO) will be educated in CIMIC aspects with the aim to provide them awareness about NATO CIMIC roles and responsibilities.
d.  Civilian Non-NATO personnel. Members of IOs, GOs, NGOs and civilian personnel with a vested interest in CIMIC business are welcomed to take part in MNCG education and training events. They can contribute to a better understanding on the expectation of these organisations concerning cooperation and coordination with NATO in the field.
 
T&E  offers include the following courses :
NATO FIELD WORKER / STAFF WORKER COURSE
CIMIC FUNCTIONAL SPECIALIST COURSE
CIMIC MISSION SPECIFIC PREPARATION COURSE - CIMIC MSPC
CIMIC AWARENESSES COURSE - CAC
CUSTOMER TAILORED COURSES
CIMIC TACTICAL OPERATOR COURSE - CTOC
INTERCULTURAL MEDIATOR COURSE - IMC
FEMALE ENGAGEMENT TEAM COURSE - FETC

Tuition Fee has to be paid ONLY AFTER RECEPTION OF THE "CONFIRMATION MESSAGE" through Paypal or Bank Transfer:
BANK: UNICREDIT
ADDRESS: Piazza Luzzatti, 6 Motta di Livenza (VE)
IBAN: IT50Y0200861840000040199129
SWIFT CODE: UNCRIT2BA48
For additional info please check the course description.

MNCG - EDUCATION & TRAINING Branch staff will answer you as soon as possible.
mail: courses.cj7@cimicgroup.org
or dial: +39-0422-280130/145
This document is released for planning purposes only, MNCG training offer timeline and release mode (residential or e-learning) may be adjusted to adapt to the future developments of the current pandemic.